Wine Bottle Bird Feeder & Wine Tasting
SOLD OUT!
Wine Bottle Bird Feeder
& Wine Tasting
Thursday, July 30th, 2020 6pm-8pm
---

Violas & Roses Bio
Violas & Roses was started five years ago out of the love of making old things new again, and finding a new purpose for forgotten gems. It is named after my daughters, each of them having beautiful floral family names we cherish.
Violas & Roses is a home décor, event planning and workshop business.
We specialize in industrial farmhouse décor with cottage accents. Violas & Roses partners with surrounding communities for workshops, like Averill House Winery in Brookline.
We look forward to many successful events at Averill.
Wine Bottle Bird Feeder Workshop
& Wine Tasting
Create a wine bottle bird feeder that'll become the perfect accent for the garden or home while enjoying a wine tasting!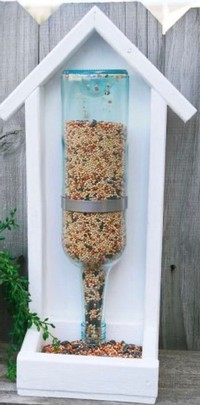 Spend an evening at Averill House Vineyard with Violas & Roses designing your bird feeder made out of reclaimed wood and Averill wine bottles. Perfect accent for the garden, or home decor.
Price will include: assembled wood bird feeder, bottle clamp, paint for your house, wine bottle and a starter bag of bird seed.
During the class enjoy a wine tasting of 4 wines.
$50.00 per person