Tasting Room Menu
We welcome wine-lovers, families, and their friends to enjoy and explore our winery, vines, and tasting room. We're absolutely certain that you're a taste away from finding your next New England favorite.
---

Our wine samples include reds, whites, fruit wines, blends, dessert , and limited edition wines. There is always a good selection of styles for everyone to enjoy!
White Wines
Truly Evocative
Gewurztraminer, Earl Grey, Elderflower & Honey
Fragrant with aromas of floral Bouquets, lychee and spices. The palate reveals semi dry notes and flavours of Earl Grey, Elderflower, and Honey crafted locally in Brookline, NH from Jim & Goldie's.
True Belle
Peach Chardonnay
Aromas of ripe juicy peaches and crisp chardonnay grapes create a flavorful semi-dry blend.
Aloha Sunrise
Brianna Grapes
A semi-dry wine emphasizing it's refreshing, crisp, acidic, fruity tropical aromas with flavors of pineapple.
Aloha Sunset
Brianna Grapes infused with cherries
A semi-dry wine emphasizing it's crisp, acidic notes, fruity tropical aromas with flavors of pineapple and cherries.
---
Sweet Wines
True Tropical
Tropical Viognier
This sweet bodied viognier blended with tropical notes of honey, coconut, mango, and papya.
Sweet Night
Cherry Wine & Maple
Rich notes of sweet red cherries sweetened by local maple syrup from Goose Brooke Medow Farms.
Sweet Moonlight
Raspberry Maple Merlot
Raspberry Merlot sweetned by local maple syrup from Goose Brooke Medow Farms.
Red Wines
True Blue
Blueberry & Grapes
A sun-ripened dry blueberry and grape wine, barrel aged with a delicate sweetness and balanced flavors. Locally sourced blueberries from Hurricane Hill Farm located in Mason, NH.
Bronceado en el Sol
Chilean Malbec
A full-bodied barrel-aged red wine, with dark fruity flavors of blackberry, plums, tar, red pepper, sweet cherry, spice, licorice and deep bittersweet notes.
Little Secret
Nebbiolo
A full-bodied of complex flavors and aromas, greeting you with robust tannins and high acidity.
---
Blush Wines
Truly Primo
Zinfandell
A semi-sweet pink zinfandel with notes of berries.
True Mellow
Watermelon Merlot
A semi-tart merlot infused with juicy watermelon, barrel-aged, and crafted with notes of mulled spices.
---
Morning Kick!
Victoria's Day
Cherry Cold Brew
Cherry wine infused with A&E Cold Brew
---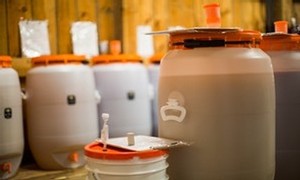 All wines listed are available for pre-orders and purchase on-site.