Tasting Room Menu
We welcome wine-lovers, families, and their friends to enjoy and explore our winery, vines, and tasting room. We're absolutely certain that you're a taste away from finding your next New England favorite.
---

Our wine samples include reds, whites, fruit wines, blends, dessert , and limited edition wines. There is always a good selection of styles for everyone to enjoy!
White Wines
From Mom with Love
Green Apple Riesling
Clean, cool and crisp with sensational aromas of green apples and sweeping floral aromas.
Truly Evocative
Gewürztraminer
An off-dry white wine with low acidity, most notably distinguished by notes of lychee, roses, pineapple, grapefruit, and gingerbread.
True Reasoning
Riesling
Deliciously refreshing, this highly aromatic semi-sweet wine presents citrus and pear notes with hints of strong floral aromas.
True Traveler
Chardonnay
Barrel-aged in American oak with this light bodied white wine presenting citrus, buttery, and vanilla flavors.
True Belle
Peach Chardonnay
Aromas of ripe juicy peaches and crisp chardonnay grapes create a flavorful semi-dry blend.
Aloha Sunrise
Brianna Grapes
A semi-dry wine emphasizing it's refreshing, crisp, acidic, fruity tropical aromas with flavors of pineapple.
Aloha Sunset
Brianna Grapes infused with cherries
A semi-dry wine emphasizing it's crisp, acidic notes, fruity tropical aromas with flavors of pineapple and cherries.
---
Sweet Wines
True Tropical
Tropical Viognier
This sweet bodied viognier blended with tropical notes of honey, coconut, mango, and papya.
True Kiss
Strawberry Zinfandel
Notes of sweet ripe strawberries blended with white zinfandel for a perfectly balanced, fruity blush wine.
Sweet Blue
Blueberry & Grape
A sweet sun-ripened blueberry and grape wine, barrel aged with an intense sweetness and balanced flavors.
Red Wines
Truly Primo
Red Zinfandel
A light-bodied red wine with subtle aromas of blackberry jam and cherries
Truly Cinematic
Blackberry Pinot Noir
A medium-bodied silky smooth pinot noir blended with notes of ripe blackberries.
True Botanist
Boysenberry
The tart but sweet juiciness of boysenberries crafted to create a semi-tart wine.
True Blue
Blueberry & Grapes
A sun-ripened dry blueberry and grape wine, barrel aged with a delicate sweetness and balanced flavors. Locally sourced blueberries from Hurrican Hill Farm located in Mason, NH.
True Champion
Cabernet Sauvignon
A full-bodied barrel-aged red wine, with dark fruity flavors of black cherries and savory aromas of leather, tobacco, and notes of earthiness
Little Secret
Nebbiolo
Loved for it's full body and floral aromas Nebbiolo is well-known for it's rich rose and anise aromas and mouth-drying tannins.
---
Blush Wines
True Mellow
Watermelon Merlot
A semi-dry merlot infused with juicy watermelon, barrel-aged, and crafted with notes of mulled spices.
---
Limited Edition Wines
Victoria's Day
Cherry wine infused with Cold Brew Coffee
Smooth flavors with a bold buzz of fresh ripe cherries infused with cold brew coffee.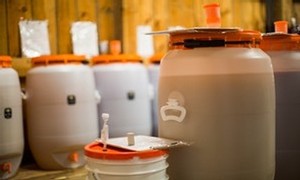 All wines listed are available for pre-orders and purchase on-site.