Tasting Room Menu
---
We welcome wine-lovers, families, and their friends to enjoy and explore our winery, vines, and tasting room. We're absolutely certain that you're a taste away from finding your next New England favorite.
Our wine samples include reds, whites, fruit wines, blends, dessert , and limited edition wines. There is always a good selection of styles for everyone to enjoy!
White Wines
Cruche de Vin Blanc
French ColombardA lively, bright, and dry crisp wine aged in French oak. This easy sipper brings leafy, spring blossoms to the nose along with citrus tones, a touch of green apple, and a smooth, buttery tone which brings a soft finish to the palate.
Truly Evocative
Gewürztraminer
A delicate balance of acidic and sweet, with a citrus and elderflower nose followed by undercurrents of locally-sourced honey from Brookline's own Jim & Goldie's.
True Belle
Peach Chardonnay
Luscious aromas of ripe juicy peaches, and un-oaked buttery chardonnay grapes create a refreshing crisp flavorful blend.
True Tropical
Tropical Viognier
This mild dry bodied viognier blended with tropical notes of honey, coconut, and mango. Creating a tropical paradise in every sip.
---
Sweet Wines
Keeping it Kiwi!
Kiwi & White Grape
Displaying a lightly sweetened dry, fruit-forward bodied kiwi and white grape blend. This ripe tropical fruit presents electric citrus notes, and a green herbaceousness.
MMM!
Mango Maple Moscato
Juicy moscato grapes and mangos blended to capture the aromas and flavors of the tropics. Bright notes of ripe mangos balanced by a crisp refreshing finish sweetened by local maple syrup.
Sweet Night
Blueberry & Garpe
Additional sweetness transforms this red blend into a jammy take on our own True Blue wine, highlighting Hurricane Hill's sun-ripened blueberries from the first sip to the last drop.
Sweet Night
Cherry Wine & Maple
Rich notes of sweet red cherries sweetened by local maple syrup from GooseBrook Meadow Farms.
Sweet Moonlight
Raspberry Maple Merlot
Raspberry Merlot sweetened by local maple syrup from Goose Brooke Meadow Farms.

Red Wines
Truly Currant
Black Currant
Feisty black currant and a blend of red grapes bring juicy tartness to pucker and delight.
True Champion
Cabernet Sauvignon | Reserve
Free Run | A full-bodied barrel-aged red wine, with dark fruity flavors of black cherries and savory aromas of leather, tobacco, and notes of earthiness.
Bronceado en el Sol
Chilean Malbec
A full-bodied barrel-aged red wine, with dark fruity flavors of blackberry, plums, sweet cherry, spice, licorice and deep bittersweet notes.
Little Secret
Nebbiolo
Loved for it's full body and floral aromas, Nebbiolo is well-known for its rich rose aromas and mouth-drying tannins.
Truly Ours Red
Estate Grown Red Blend: Frontenac
This 2019 estate grown full-bodied, sharp oak barrel-aged wine, with dark fruity flavors of blackcurrant, plums, sweet cherry, and deep bittersweet notes of chocolate making a smooth, red wine.
True Blue
Blueberry & Red Grape
Dry, floral blend of local blueberries with red wine grapes. Barrel-aged in American oak since 2017, the first sip is delicately herbal as the blueberry flavor builds on your palette.
---
Blush Wines
Truly Primo
Blush Zinfandel
Notes of berries that tease the nose while a strawberry, spices, and a savory hint of oak dances on the palette. The wine is lipstick pink in color, nicely textured and finishes dry with pleasant acidity and a flavorful finish.
---
Peculiar Tastes!
True Mellow
Watermelon Merlot
This refreshing blush presents a semi-tart juicy watermelon rind infused with merlot grapes, crafted with notes of hops, oak, and mulled spices.
Victoria's Day
Cherry Cold Brew
Smooth and flavorful fresh ripened cherry wine infused with Cold Brew Coffee from A&E Coffee.
---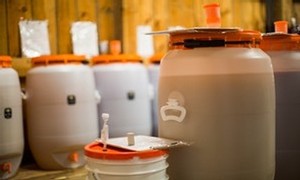 All wines listed are available for pre-orders and purchase on-site.