Tasting Room Menu
---
We welcome wine-lovers, families, and their friends to enjoy and explore our winery, vines, and tasting room. We're absolutely certain that you're a taste away from finding your next New England favorite.
Our wine samples include reds, whites, fruit wines, blends, dessert , and limited edition wines. There is always a good selection of styles for everyone to enjoy!
White Wines
True Traveler
Frontenac Gris
This Medium-bodied, off dry white has a pure, yet citrusy, and long finish. Pleasant aromas of candied lemon, grapefruit, and floral jasmine that evokes the fresh juicy flavors of Frontenac Gris grapes and citrus fruits, with a moderately clean crisp finish.
Truly Evocative
Gewürztraminer
A delicate balance of acidic and sweet, with a citrus and elderflower nose followed by undercurrents of locally-sourced honey from Brookline's own Jim & Goldie's.
True Belle
Peach Chardonnay
Luscious aromas of ripe juicy peaches, and un-oaked buttery chardonnay grapes create a refreshing crisp flavorful blend.
True Tropical
Tropical Viognier
This mild dry bodied viognier blended with tropical notes of honey, coconut, and mango. Creating a tropical paradise in every sip.
---
Blush Wines
Truly Ours Rosé
Concord, Catawba & Niagara
Made from a lively blend of our estate and locally grown Niagara, Catawba, & Concord grapes from Pepperell, MA. This dry wine is light and bright on the palette introducing a sharp instant note of juicy grapefruit followed by the refreshing flavors of mixed stone fruits. Our Rosé highlights the playful aromatics of a fruit forward summer sipper.
---
Sweet Wines
MMM!
Mango Maple Moscato
Juicy moscato grapes and mangos blended to capture the aromas and flavors of the tropics. Bright notes of ripe mangos balanced by a crisp refreshing finish sweetened by local maple syrup.
Keeping it Kiwi!
Kiwi & White Grape
Displaying a lightly sweetened dry, fruit-forward bodied kiwi and white grape blend. This ripe tropical fruit presents electric citrus notes, and a green herbaceousness.
Sweet Night
Cherry Wine & Maple
Rich notes of sweet red cherries sweetened by local maple syrup from GooseBrook Meadow Farms.
Red Wines
Truly Currant
Black Currant
The distinct sweet-tart taste of black currants shines with a house blend of red grapes. This light, semi-dry red will tease your tongue - it is tart, sweet, and fruit-forward, lingering so you savor every sip.
Truly Cinematic
Blackberry Pinot Noir
Enjoy the bold but juicy intensity of a blackberry, the rich, and silky smooth notes of cherry and berry spices of the pinot noir.
Bronceado en el Sol
Chilean Malbec
A full-bodied barrel-aged red wine, with dark fruity flavors of blackberry, plums, sweet cherry, spice, licorice and deep bittersweet notes.
True Champion
Cabernet Sauvignon
A full-bodied barrel-aged red wine, with dark fruity flavors of black cherries and savory aromas of leather, tobacco, and notes of earthiness..
Truly Ours Red
Estate Grown Red Blend: Frontenac
This 2018 estate grown full-bodied, sharp oak barrel-aged wine, with dark fruity flavors of blackcurrant, plums, sweet cherry, and deep bittersweet notes of chocolate making a smooth, red wine.
Victoria's Day
Cherry Cold Brew
Coffee and cherry dance across your palette in this smooth and flavorful red. Infused with locally-sourced cold brew coffee from A&E Roastery for a roasted coffee nose, this is the perfect sipper for gifting, brunching, or treating yourself to an easy morning.mooth and flavorful fresh ripened cherry wine infused with Cold Brew Coffee from A&E Coffee.
---
Limited Run!
True Champion
Cabernet Sauvignon | Reserve
Free Run | A full-bodied barrel-aged red wine, with dark fruity flavors of black cherries and savory aromas of leather, tobacco, and notes of earthiness.
---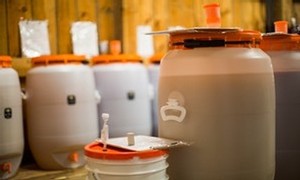 All wines listed are available for pre-orders and purchase on-site.