Tasting Room Menu
---
We welcome wine-lovers, families, and their friends to enjoy and explore our winery, vines, and tasting room. We're absolutely certain that you're a taste away from finding your next New England favorite.
Our wine samples include reds, whites, fruit wines, blends, dessert , and limited edition wines. There is always a good selection of styles for everyone to enjoy!
---
Wine Flight | Sample of 4
$15
Glass of Wine
$12
Additional Tasting Sample
$3.50
---
White Wines
Truly Evocative
Gewürztraminer
Pronounced "Gah-Vertstra-Meaner" this refreshing light white wine teases your nose with its lovely floral bouquets of elderflower, then softens with fruity hints of lychee, finishing with lingering notes of comb fresh honey, Honey is locally sourced from Jim & Goldie's just down the street here in Brookline, NH!
Cruche de Vin Blanc
French Colombard
Crisp aromas of pear gives way to the flavors of citrus, honeysuckle, and green apple in this approachable white. Its acidity lends a fresh and vaguely mineral quality to its semi-dry finish.
True Traveler
Chardonnay
Enjoy the refreshing scent of sweetened white grapes & hints of ripe honeydew on the nose, followed by tangy notes of pink grapefruit ending in a clean , crisp, finish.
True Reasoning
Riesling
This deliciously refreshing semi-dry white wine showcases the varietal's pure green apple, citrus, pear, and peach flavors. Strong floral aromas are balanced by acidity giving the wine it's crisp, mouthwatering character and minerality.
True Belle
Peach Chardonnay
Fresh from the orchard to your glass with the luscious aromas of juicy peaches and un-oaked chardonnay grapes in this buttery semi-dry yet crisp blend.
True Tropical
Tropical Viognier
Pronounced "veen-YAY", this is a crisp, semi-sweet that manages to keep its tropical profile at the forefront with a twist of pineapple and coconut. Take a sip of this tropical white wine and be transported to the island of your dreams. ​
---
Blush Wines
21 Averill Road
Zinfandel Blanc
This delicate, light-bodied, bright and dry crisp wine offers pomaceous fruits and plenty of citrus flavors. Spring blossoms fragrances and fresh notes of pear, and green apples. An easy texture balances the fruitiness that has a soft aftertaste.
---
Specialty Wines
Elefante Naranja
Blood Orange | Pear
Citrus blood orange & pear blend showcases lively and buttery notes of crisp pear and hints of citrus making for a a delightful summer cooler! ​
Sakura-Fabuki
Cherry Grape
Notes of tart cherry and grape refreshes the mouth with hints of early season black cherries, white grape pucker, and flower blossoms.
Victoria'a Day
Cherry | Cold Brew Coffee
Bold coffee and light cherry notes dance across your palette in this smooth and flavorful red. Infused with locally-sourced cold brew coffee from A&E Roastery, this is the perfect sipper for gifting, brunching, or treating yourself to an easy morning.
---
Sweet Wines
Craven Cranberry
Cranberry & White Grape
A semi-sweet white cranberry wine balanced with smooth, crisp notes of cranberries and a lively finish. Our cranberry wine is perfect for the Holiday Season and can be enjoyed served at room temperature or used as a cocktail mixer.
MMM!
Mango Maple Moscato
Juicy Moscato grapes and mangos blended to capture the aromas and flavors of the tropics with a New England twist. Bright notes of ripe mangos balanced by a crisp refreshing finish sweetened by local maple syrup from Goosebrook Meadows Sugar House, Harrisville, NH.
Keeping it Kiwi!
Kiwi | White Grape
This lightly sweetened fruit-forward kiwi and white grape blend offers a refreshing electric bite of the kiwi berry fruit followed by a smooth & soothing sweetness.
Sweet Night
Cherry | Maple | Red Grape
Rich notes of sweet red cherries sweetened by local maple syrup from Goosebrook Meadows Sugar House located in Harrisville, NH.
---
Red Wines
Truly Cinematic
Blackberry Pinot Noir
Enjoy a bold but juicy take on our semi-dry Pinot Noir blended with fresh blackberries. This rich red berry wine brings notes of delicate blackberries with a touch of cherry and warm spices.
Truly Current
Black Currant | Red Grape
The distinct sweet and tart note of black currants shine with a blend of red grapes. This light, semi-dry red will tease your tongue with lingering notes of red berries.
Bronceado en el Sol
Chilean Malbec
This semi-dry, barrel aged red stakes its claim with warm earthy tones and the bold red fruit flavors of cherry and plum. Add a touch of spice and a subtle violet finish.
True Champion
Cabernet Sauvignon
A full-bodied barrel-aged red wine, with dark fruity flavors of black cherries and savory aromas of leather, tobacco, and notes of earthiness.
True Champion | Reserve
Cabernet Sauvignon | Free Run
A free run(un-pressed) full-bodied Cabernet, barrel aged for 12 months in American oak. This semi-dry Cab is fully loaded with dark fruity notes of black cherries and savory aromas of leather, tobacco.
Little Secret
Nebbiolo
This Italian treat teases the nose with scents of mixed berries, gentle essence of rose and a touch anise. Cherries and plum come forward on the palate, cascading into floral tones and a delicate tannin that dries the palate with a mild acidity, finishing with a smoky velvet.
Mono Chrome
Syrah
Aromas of violets, peppercorns, black olives, herbaceous notes of Earl Grey tea with hints of tanned leather and smokey scents presents fruit-driven flavors of blackcurrant and sweetish impressions of licorice tease the palate.
Senary
Carménère
Carménère stuns it's guests with it's dark crimson color and bold aromas of raspberry puree & fruity red berries. It adorns smooth semi-dry notes of black plums, tart cherries, hints of green peppercorns, and finishes with a medium mouth feel and fine grained tannins & minerality.
Truly Primo
Carménère & Syrah Blend
This innovative red blend creates a full bodied, deeply pigmented wine that presents dark-fruit flavors such as blackberry.
Little Blackbird
Merlot
The bouquet of this Merlot is complex with scents of violets, sweet plums, and vanilla bean. On the palate, the wine is velvety and soft in texture, with flavors of plums, blackberries and cherries, and a long cocoa powder finish.
True Mellow
Watermelon Merlot
A complex medium bodied Merlot with scents of violets, vanilla beans and sweet plums, Velvety and soft in texture, with flavors of mixed berries that bursts with aromas of juicy, refreshing watermelon.
---
Truly Ours Red | Estate Grown
Frontenac
2017 | 2018 Red Blend
Dry, acidic, heavy tannins & raspberry balsamic notes.
Frontenac | Concord
2021Red Blend
Notes of fresh black pepper, a touch of balsamic, building to a mouthwatering tart cherry finish. Kissed with American oak and slightly acidic, 2021's dry summer and with the help of mother nature have produced these complex qualities in our wine.
Marquette
2021
This dry red has natural aromas of intense oak and heavy tannins followed by notes of sharp tart cherries.
Sabrevois
2021
Named After a town in Quebec Provence, this cold-hardy grape has aromas of clove and notes of dark cherry with a light and warming finish.​
---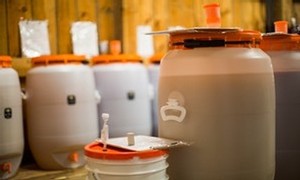 All wines listed are available for pre-orders and purchase on-site.