Tasting & Tour Pricing
---
Effective Thursday, March 18, 2020 through May 4th, 2020 the new guidelines for Restaurant Operations set by the State of NH, in support of the Nation's and State's effort to stop the spread of CO-VID19, we will be halting all wine tastings and on-site wine consumption. This includes postponing events and bar service, but allows us to continue with Take-out and curbside pickup.
With your continued support we have committed to keeping our entire staff on hand, and ensure that they and their families will not have to go through hardship.
After considering logistics and economics we will make the following changes:
Hours of Operations for the winery store: Saturday and Sunday 11am – 4pm.
Additional To-Go and Pickup by appointment, send us a note or call and we will work with you on a date, time, and location.
---
At Averill House Vineyard our goal has always been to create the best wines and provide a rich and friendly atmosphere for family, friends, and wine-lovers alike to enjoy. Our picturesque vineyard and 1830's barn help create a perfect setting for you to sample and adventure through the wines at your own pace.
---

Tasting & Tour Packages
Tasting of 6 samples & Stemmed Glass
$10 per person
Tasting of 6 samples & Cheese Packet
$10 per person
Tasting of 6 samples & Tour
$15 per person
Tasting of 6 samples, Tour & Stemmed Glass
$20 per person


Tastings
Sample of 4 wines
$5 per person

Additional tasting sample
$1.25
Tours
$10 per person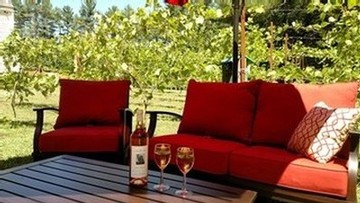 Come enjoy our wines, tour the vineyard, and enjoy a glass of your favorite wine while taking in the views on the crush pad this season.
Glass of Wine
$10.00
Half Case Discount 5% off
Full Case Discount 10% off
Groups of 6+ please call for reservation.