Our Story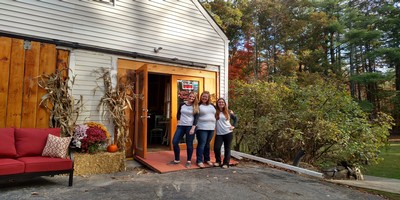 Averill House Vineyard is owned and operated by the The Waite Family; founded in July of 2017.
Decades ago the Waite family's passion for wine, wineries, and vineyards was sparked as they travelled near and far. During their adventures the family was inspired by the entire process of making wine, from vine to glass. As they dove further into their learning about cultivating grapes to their fermentation, their passion for wine blossomed and they one day dreamt of owning their own vineyard.
In 2012 the seed was planted when Bob Waite, father and head vintner, was gifted six vines of three different varietals. As they grew, so did the vineyard. The next year, the family began remodeling their rustic 1830s New England barn and the winery was born. Since then, the vineyard has grown to roughly 500 cold climate vines, composed of eleven different varietals.
The remodel barn became the home for their tasting/show room, and doubles as their production center and stone insulated wine cellar. The vineyard spans over 2 acres; and nestled in the vines are a few patio areas, perfect to picnic and enjoy a glass of wine. The family has made great use of the space making room for events, special occasions, weddings, or corporate get-togethers.
The family prides itself in keeping an unassuming, friendly, and relaxing atmosphere at the winery that lends itself to personal exploration and an intimate tasting. It's the perfect setting for you to sample and adventure through the wines at your own pace. There is absolutely no pretense, and they're happy to share their expertise and experiences.
The goal has always been to create the best wines and provide a rich and friendly atmosphere for family, friends, and wine-lovers alike. The Waite family prides itself on their use of organic growing and preparation methods, sourcing as much as they can from the rich New England farmland that surrounds them.
They can't wait until you make a stop by the winery and make Averill House vineyard a part of your day exploring historic Brookline, wether its hiking at Andres Art Institute, throwing clay at Clay Alchemy, enjoy afternoon tea at The Cozy Tea Cart, or a visit to the Ice Museum.