St. Patrick's Day Murder Mystery Dinner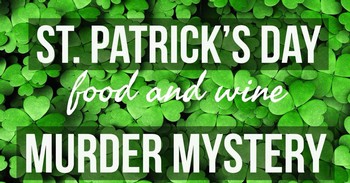 Averill House Vineyard and COOKED Murder Mystery Supper Club proudly present "The St. Patrick's Day Slaying", a 4-course food and wine pairing event. #AverillHouseMurderMystery
Come donned in your holiday best, ready for an evening of role playing, intrigue, and amusement. But don't let the crime spoil your delicious food and wine tasting experience! Sip on Averill House Vineyard wines you have come to know and love as you savor four savory small plates, all while solving the fantasy murder.
Tickets are a steal at $59 which includes wine pairing and 4 dishes. There's a limited number of tickets available, so book your spot today!
PLEASE NOTE: In order for chef to provide the most exciting and fulfilling experience possible to his guests, it is important that everyone in attendance has no food allergy or restriction.
Young adults 18 and above and folks that prefer no Achohol can be included with a selection of fabulous juices. Just send a note along with your ticket purchase.