Milk Chocolate WineChips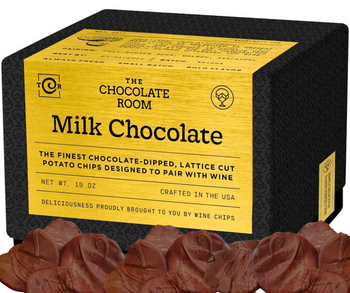 All of the best milk chocolate snacks have one thing in common: a quality crunch! Whether it's almonds, tiny nibs or krispies, or some kind of wafers or cookies, there's nothing like a good crunch to bring out the best in a milk chocolate product.
Well, suffice it to say that milk chocolate has never had a crunch companion like a sea-salted Wine Chip! More than 5x the thickness of traditional kettle-cooked chips, Wine Chips' lattice-cut crunch is part of what makes them so unique, and it is at the heart of what makes them taste so good enrobed in rich milk chocolate!
Pair it with nutty dessert wines, ports or Madeira, and you may never go back to eating… anything else at all.