Father's Day Special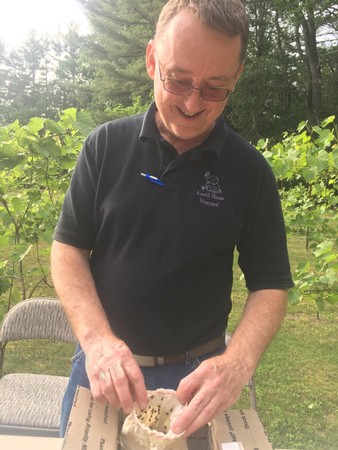 Father's Day Sunday June, 21th 2020
11:00am- 4:00pm
Averill House Vineyard is owned and operated by the The Waite Family; founded in July of 2017.
We Love our Dad and are excited to share this Father's Day with all the superhero Dad's out there!
Father's Day at the Vineyard with Dad is a special time.
Actually any time with Dad is special!
We will be bottling a sure hit with a special commemorative label to be cherished for years to come.
Yes you can bring a cigar and enjoy it in the Vineyard!
Yes you can bring a picnic to eat in the Vineyard*
Early Bird Specials End Soon!
Join us with a low impact tour, wine tasting and nut, fruit and cheese snack. All complimentary with your wine tasting. Start with seeing the vines, maybe even adopt one like my Step Dad did. Then a peak of the wine cellar and into the 1830's barn. Look around the tasting room and roll back the ages. Over fifteen to choose from, even a few for Beer Drinkers.
Your guide has stories to share as you enjoy the winery and vineyard in the Historic Ice District of Brookline, NH. Once the home of the largest Ice producing plant in the world at lake Potanipo.
Tasting will be four of your choices of wines served in a flight to enjoy with your snack.This includes the Wine tasting, Wine glass and Snack as well as the tour of the Vineyard and winery.
The showroom is opened from 11-4pm with tours on the hour.
PLEASE notify us the time you will be arriving to reserve your spot!