AHV Brazil Coffee Beans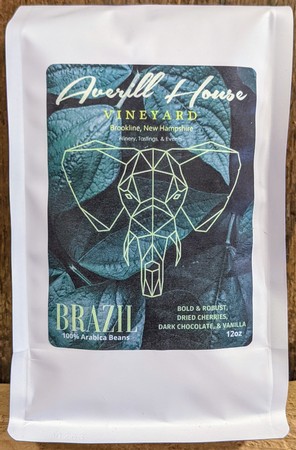 Sip Sip Hurray, now you can enjoy the coffee beans that give Victoria's Day(our Cherry Cold Brew Wine) it's caffeine boost by grinding a cup of Averill House Vineyard's Brazil Coffee Beans. This bold Arabica bean offers a dark, rich, and flavorful cup of coffee from hot to room temp it is sure to be sipable through and through. The verdict is in, our Assistant Vintner has given AHV Brazil Coffee Beans his cup of approval! Each of these delicious aromatic beans go through a rigorous quality control and are all produced in small batches by our friends at A&E Coffee & Tea!
Brew up local beans just like the pro's, each bag has been roasted to perfection with love and care from A&E Coffee & Tea!
AHV BRAZIL COFFEE BEANS by A&E Coffee & Tea
Origin Facts
Altitude: 3100 ft
Variety: Mundo Novo
Processing Method: Pulp Natural
Species: Arabica
Harvest: April-July
Tasting Notes
Aroma: rich, sweet vanilla
Taste: dark chocolate, robust, subtle vanilla
Body: heavy
Finish: long
Backstory
Ivoney Paulette Ferreira was born on August 31st, 1967 in Ubiratã, Paraná. His father José Francisco Ferreira was a traditional cotton producer in northwestern Paraná. In 1996, Ivoney Paulette Ferreira and his father José Francisco Ferreira, along with three other producers, came to the Patrocínio region to produce cotton as lessees. In the year 2000, in addition to producing cotton, Ivoney Paulette Ferreira acquired the Santo Antônio farm, on which he planted four hectares of coffee. In 2002, acquired another property, the Chapadão de Ferro Farm. Ivoney Paulette Ferreira works together with his children Leandro Júnior Zati Ferreira and Poliana Zati Ferreira. In order to produce high quality coffees, they follow the agronomic recommendations and during post-harvest processing use a paved patio for drying their coffees.
As of October 2019, Ivoney Paulette Ferreira is part of the Cerrado Mineiro Designation of Origin program. Coffees from the farm are all labeled with a seal of origin and quality, which indicates their full traceability and adherence to the standards of the Cerrado Coffee Growers Federation, which requires sustainable and equitable farming practices and evaluates each lot to ensure quality.
Within Cerrado, there are many microregions that present unique characteristics in the cup. The Chapadão de Ferro microregion is a small town with farms situated around the cone of a partially formed volcano. Farms here are at higher elevations above 1100 meters and coffee is harvested a month or two later than in other parts of Cerrado Mineiro.
*For more information on this product please visit A&E Coffee & Tea's website: aeroastery.com