AHV Honduras (Women's Series) Coffee Beans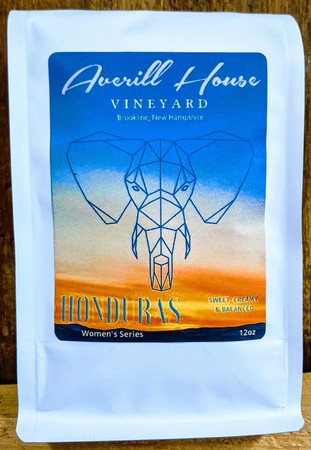 Sip Sip Hurray, now you can enjoy the coffee beans that give Victoria's Day(our Cherry Cold Brew Wine) it's caffeine boost by grinding a cup of Averill House Vineyard's Honduras Coffee Beans. This medium bodied bean offers a diverse, yet flavorful cup of coffee that can be enjoyed freshly brewed or after letting it cool down, Honduras Coffee Bean is perfect for those who like a medium level coffee that is sure to please the pallet. Each of these delicious aromatic beans go through a rigorous quality control and are all produced in small batches by our friends at A&E Coffee & Tea!
Brew up local beans just like the pro's, each bag has been roasted to perfection with love and care by A&E Coffee & Tea!
AHV HONDURAS (Women's Series) COFFEE BEANS by A&E Coffee & Tea
"Manos de Mujer" is a newly formed group of female coffee producers within the COMSA (Café Organico Marcala, S.A.) organization located in Marcala, Honduras. This initiative was started in September 2013 for the purpose of improving the living standards of the women members of COMSA that own and operate their own farms. But it's not just coffee these women produce, they are also part of a larger initiative of women farmers of COMSA trying to diversify their farms beyond coffee, in an effort to have a more sustainable income throughout the year. To contribute, they've planted vegetable and fruit gardens, and started raising chickens, pigs and cows from which they feed their family first, and then sell the surplus in a farmer's market of organic products from which the entire community of Marcala can buy from every 2 weeks. Their activities have not only helped their families economically but also emotionally since vegetables and animal farms require continued dedication and positive impact on their families. This initiative by COMSA aims to promote gender equality at the farms and throughout the community.
*For more information on this product please visit A&E Coffee & Tea's website: aeroastery.com