AHV Equinox Coffee Beans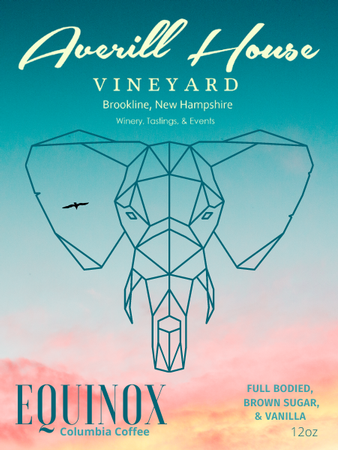 Sip Sip Hurray, now you can enjoy the coffee beans that give Victoria's Day(our Cherry Cold Brew Wine) it's caffeine boost by grinding a cup of Averill House Vineyard's Equinox Coffee Beans. This full bodied Colombian bean offers a light flavorful cup of coffee best enjoyed hot off the press. Equinox is great for a light morning sipper or as a side accompaniment to a breakfast danish. Each of these delicious aromatic beans go through a rigorous quality control and are all produced in small batches by our friends at A&E Coffee & Tea!
Brew up local beans just like the pro's, each bag has been roasted to perfection with love and care by A&E Coffee & Tea!
Tasting Notes
Aroma: brown sugar, vanilla, milk chocolate
Taste: sugar cane, orange, brownie
Body: full
Finish: lingering
*For more information on this product please visit A&E Coffee & Tea's website: aeroastery.com