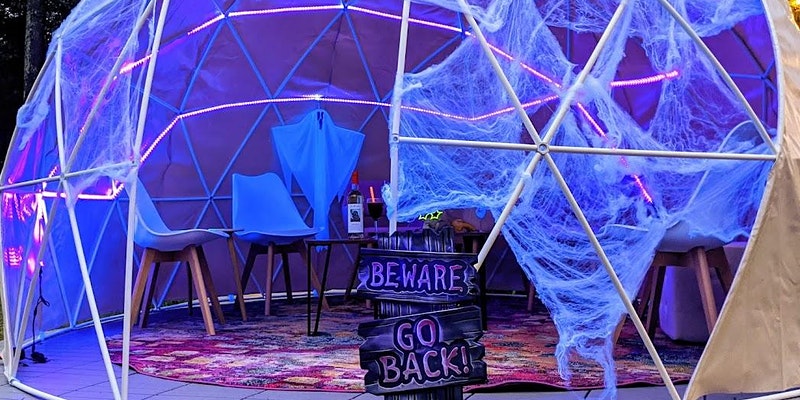 Halloween Wine Cave Igloo Experience

Black Light themed igloos Wine Cave is the ideal way to celebrate the Halloween season. Glow themed menu & wine. Options for two to Eight Guest.

We welcome wine-lovers, families, and their friends to celebrate in a Spooktacular way by exploring our Sweet Night Blacklight igloo experience.

The Black lights enhance a spectrum of color in food, wine, furniture and clothing we seldom see. We look forward to seeing you in a whole new Light, make sure to wear tasteful clothing that will take advantage of the Black Lights.

Whether it be one of our wines, wine slushies, #WineCream (wine ice cream) or mug of warm mulled red wine We're absolutely certain that you're a taste away from finding your next New England favorite.

---

The cost is $100 for the first two people and $50 for each additional person for up to 8 people in the same party. Your visit will be for 105 minutes (One hour and forty five minutes). We request you arrive fifteen minutes before your reservation. Choose a time and igloo then under ADD ons add any additional guest up to six.

Consider adding the additional Sweet & Salty Treat Board, or the Sweet Night #WineCream ice cream.

Though the igloos are heated, we still recommend dressing for cold weather. Blankets, Gloves and Hoodies are available for sale in the tasting room.

We have cultivated the experience at the winery with our visitors in mind. We fill each and every space, and amenity, with the love and hospitality that we hold so dear. We hope that our attention to detail and desire to pamper shines through each time you visit.

Reserve your Igloo Experience Here

Book your igloo experience before it's too late!

Private Vineyard Igloos include the following…

Private tasting in the igloo with views of our vineyards and New Hampshire sky

Electric heater and HEPA filtered air

Decorated and Furnished with a Spooktacular glowing theme

Complimentary parking

Dedicated Manager and Tasting Associate serving you

Theme lighting with black lights to heighten your experience (Costumes are encouraged)

WiFi access for your choice of themed music (volume restrictions apply)

Charcuterie Board with nut, meat, cheese & crackers (Allergies, send us a note)

Wine tasting of four wines

Endless Instagram moments and memories to last a lifetime

---

Guidelines:

Our employees follow state guidelines. The staff is trained to thoroughly clean and sanitize the igloos after each booking. Our customers and employees health and safety is our top priority while visiting us.

No pets are allowed in the igloos. No outside alcohol or drugs of any type are allowed (Federal offense). No smoking or vaping inside the igloo is allowed (designated outside area available). No outside food allowed. Children are allowed but may be uncomfortable in the confined space of the igloo. Any damage to the igloo, or furniture will be charged to your on file credit card.