ZenTangle Shades of Blue Workshop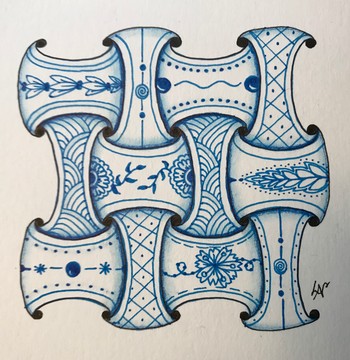 Tangle with Lynne Zentangle® Shades of Blue with complimentary wine tasting at Averill House Vineyard
September 26th, 6:00pm-8:00pm
---
Zentangle® is a fun, relaxing method of creating beautiful images by repeating simple patterns just one stroke at a time. It supports relaxation, focus, inspiration, and a sense of well-being and offers artistic satisfaction for people of all ages and abilities. If you can write your name, you can create beautiful Zentangle designs!
In this 2 hour workshops you will work with patterns within patterns to create a tile that is reminiscent of Dutch Delftware. You will be using blue microns and blue and white colored pencils. All supplies will be provided for use in class but feel free to bring your own if you have them. Supplies will also be available for purchase for those who wish to continue working with shades of blue at home. Beginner and experienced Tanglers are welcomed.
Relax and let your inner creative self loose while enjoying four of Averill House Vineyards summer wines including True Blue a Blueberry Wine. Complimentary Wine tasting of four wines is included with Purchase for those 21+ (non-alcholic beverages available for under age Crafters)
$35.00 Zentangle and Wine tasting
$39.00 Zentangle, Wine Tasting, Chocolate, Nut, Berry and Cheese Snack Pack
$99.00 Zentangle, Adopt a Vine, Wine Tasting, Chocolate, Nut, Berry and Cheese Snack Pack
Be a part of Averill House Vineyard history and receive a private summer tour for four adults with tasting. And there's more! Your adoption is for two harvest seasons 2019 and 2020. You will receive a certificate of adoption, pictures, and updates on your vine, and culminates with a Vineyard Masters Holiday Event! -One tour and tasting each year for up to four adults (your children under 21 can join you) -Two years of vine adoption -Certification of vine adoption with Certificate -Row # & Vine # -Varietal selection of your choice or let us choose -Personalized and numbered engraved plaque -A pair of Averill House Vineyard wine glasses -Semi Annual updated on your vine -Bottle of wine Each Year (must be 21 or older and picked up at Averill House Vineyard in person) -Special Opportunities for events and discounts (10% on gift shop items) -Two tickets for the Harvest Day Event -Two tickets for the Wine Masters Holiday Event A $279 value.