Easter Egg Felting Workshop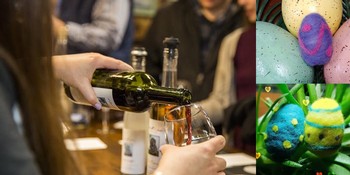 Easter Egg Felting Workshop & Wine Tasting
Thursday April 4th, 2020
---
Celebrate the beginning of Spring by crafting your very own felted Easter Eggs while enjoying a wine tasting!
Course Description:
Celebrate the start of Spring with Averill House Vineyard and Stephanie by crafting your very own felted Easter Eggs while enjoying our Spring time wine tasting!
Perfect for beginners! We'll provide all the materials needed to kick off your ever lasting hobby.
Complimentary Wine tasting of four wines is included with Purchase for those 21+ (non-alcoholic beverages available for under age Crafters)
Felted Easter Eggs workshop is $34.99 per person which includes a 2 hour studio session with instructor, felting kit (natural & colored roving, 3 felting needles, felting sponge) and the Spring time wine tasting (21+) or non-alcoholic beverage.
*Optional: Felted Easter Egg and snack food with complimentary Chocolate & wine pairing $39.99
Additional Easter Egg kits will be available for purchase, all tickets are non-refundable, kit is yours to keep.
If you would like to see the finished product swing by the winery, they are incredibly cute and will become an Easter favorite. Better yet you will have every thing you need start your own Felted Easter Egg! Come join us in learning a skill that will lat a lifetime!