SOLD OUT! What Happens at Monte Carlo Murder Mystery Dinner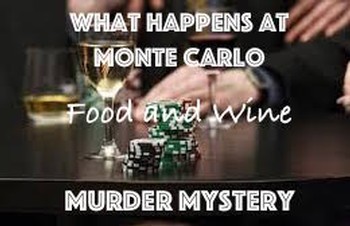 "What Happens at Monte Carlo Murder Myster Dinner"
4 Course Food & Wine Pairing
Saturday, August 22nd, 2020 6:00pm-9:00pm
---
Calling the inquisitive, clever, and creative! On Saturday, August 22nd, only a small number of detectives will be able to join us for a one-night-only What Happens at Monte Carlo themed murder mystery event with delicious dishes from local Chef Porter from Leave it to Me Planning!
Pop-Up Chefs are known for delicious food at the most exhilarating murder mystery ever created, Casino Night Murder Mystery Dinner menu will be astonishing. As a pop up Chef the mystery of the Four Courses is always on theme, delicious and a welcomed surprise.
A night of delicious wines and casino games end in a tragic death.
Will it be yours?
The Mystery Dinner is exactly that, a mystery! We promise it will be filling, delicious and home cooked by a Chef that is enamored with New England Freshness. This is your chance to enjoy a meal that is served from the heart by a world class Chef and one of our favorite people, Chef Porter. Join US to unravel the Mystery!
Averill House Vineyard and Chef Porter proudly present "What Happens at Monte Carlo Murder Mystery", a 4-course food and wine pairing event. #AverillHouseMurderMystery
Join Averill House Vineyard and Murder Mystery Co. as they proudly present What Happens at Monte Carlo, an immersive murder mystery event set in the most prestigious casino in the world! Come donned in your finest formal wear, ready for an evening of mystery, scandal, and entertainment.
As you enter Averill Winery, you will be transported to gorgeous Monaco where socialites, politicians, and gamblers mingle as they try their luck. You will receive your role in the play and join in the festivities. The evening is meant for joy and merry making... until someone is murdered. Don't trust anyone - you must figure out who the murderer is before you're next.
But don't let a little blood spoil your evening! As you solve the murder, take a moment to savor the four small plates crafted by Chef Porter of Leave it to Me Planning, paired with four Averill wines you know and love.
Tickets are a steal starting at $59.00 which includes wine pairing and 4 dishes. There's a limited number of tickets available, so book your spot today!
PLEASE NOTE: In order for chef to provide the most exciting and fulfilling experience possible to her guests, it is important that everyone in attendance has no food allergy or restriction. Some concessions can be made on an individual basis. Call or email prior to ticket purchase.

Young adults 18 and above and folks that prefer no Achohol can be included with a selection of fabulous juices. Just send a note along with your ticket purchase.